Have high blood pressure and do your grocery shopping online? You could be eligible!
Australians are increasingly shopping for groceries using supermarkets' online stores. However, we don't know much about how people are doing their shopping online and how their purchasing habits might be affected by the information available on these online stores.
Researchers at The George Institute for Global Health are interested in understanding how purchasing choices may change depending on the information being presented. We will do this through a web-browser extension – the Online Grocery Shopping (OGS) extension – which will enhance your online shopping experience.
Interested? We are currently recruiting people who shop online to help us better understand how people are using the information made available to them!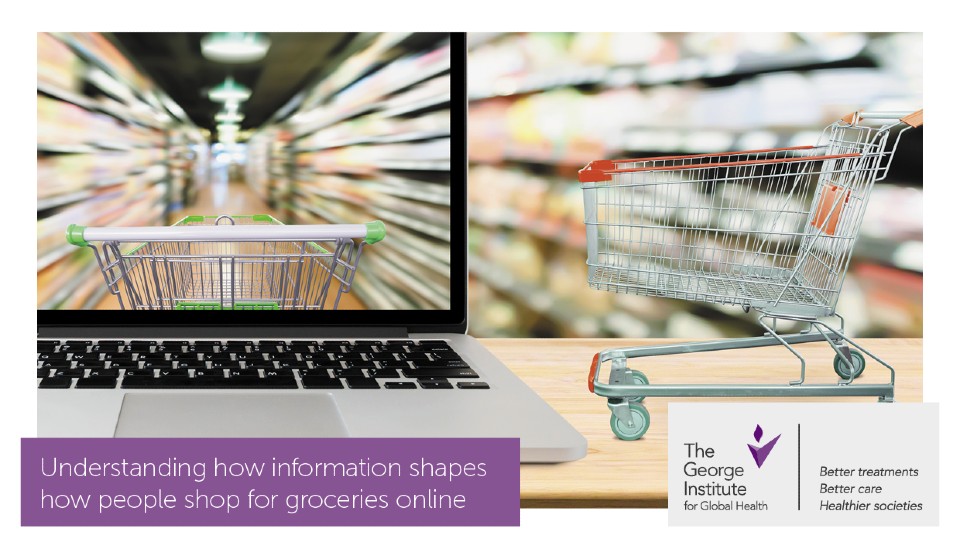 We are looking to recruit people who meet the following criteria:
Adults (18 – 75 years of age)
Generally healthy
Have high blood pressure diagnosed by your doctor or currently taking a stable dose of blood pressure lowering medications
People who regularly purchase most of their groceries online from Woolworths and plan to continue for the duration of the study (4 months) OR for those who don't currently shop with Woolworths, you will also be eligible if you switch to shopping at Woolworths for the duration of the study
Participants will be asked to complete the following research activities if they consent to join the OGS study:
Complete surveys
Complete dietary questionnaires
Provide at home blood pressure measurements, using a monitor we provide at no cost to you
Provide urine samples at a certified Pathology Centre close to you
A small selection of participants will be invited to participate in a telephone interview at the end of the study asking you about your thoughts on different elements of the study and suggestions for improvements.
We are offering up to $75 worth of Woolworths 'Essentials/Grocery eGift Card' grocery vouchers in recognition of your participation. You will also be able to keep the blood pressure monitors provided to you (valued at $179).
This research study is being conducted and sponsored by The George Institute for Global Health in NSW and is funded by the National Health and Medical Research Council (NHMRC). The study has been approved by the University of New South Wales (UNSW) Human Research Ethics Committee.
Please contact the research team via email to register your interest in taking part in the research:
Name: OGS Research Team
Telephone: +612 8052 4567 / +612 8052 4605
Email: [email protected]